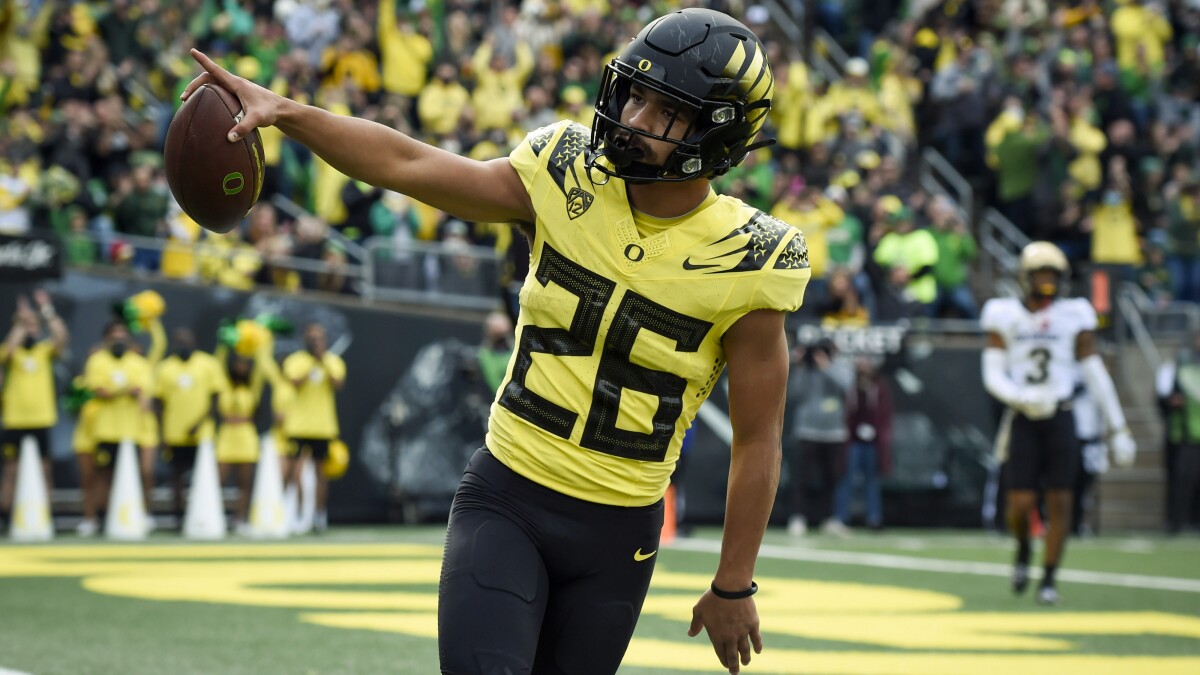 In a home game Saturday Afternoon in Oregon, the Oregon Ducks beat the Colorado Buffaloes 52-29. In the victory, the Ducks put up 568 yards of total offense and were efficient on third down, converting 7 of 10 attempts. Colorado struggled on offense all season and managed to score 29 points in the game but did not score in the first and third quarters.
Brown Was Efficient
Oregon quarterback Anthony Brown threw for a career-high 307 yards and three touchdowns. He also completed 25 of his 31 passes and had a quarterback rating of 90.9.
"Efficiency, consistency, and just making the right reads all around the board," Brown said about his progress. "And it came from a lot of things, but just staying in the groove and continuing to do what I do throughout the week, continuing my process, watching extra film and doing extra things and just continuing that."
Ducks Ground Game Was On Point
Oregon rushed for 256 yards on 36 carries. They were led by running back Byron Cardwell, who rushed for 127 yards on just seven rush attempts. Travis Dye added 47 rushing yards and two touchdowns. The Ducks' offensive line had no problems firing off the ball and creating running lanes for their running backs.
Colorado Generated Some Offense
Colorado came into the game averaging 15.1 points per game. However, they managed to score 29 points on Saturday. Colorado's quaterback Brendon Lewis passed for 224 yards and tossed three touchdown passes. Brenden Rice led the receivers, catching five passes for 102 yards and one touchdown. Rice is the son of Hall of Fame receiver Jerry Rice.
"I felt that this team played hard overall," Colorado coach Karl Dorrell said. "I thought offensively we made some tough plays in some critical moments. We had some fourth downs we had to go for, had to extend some plays and we made those plays. The receivers, tight ends, backs, all, I thought they played hard, ran hard."
Up next, Oregon travels to Washington, and Colorado will host Oregon State.
Follow Championship Sports Media on Twitter!
Check out the CSM Shop!