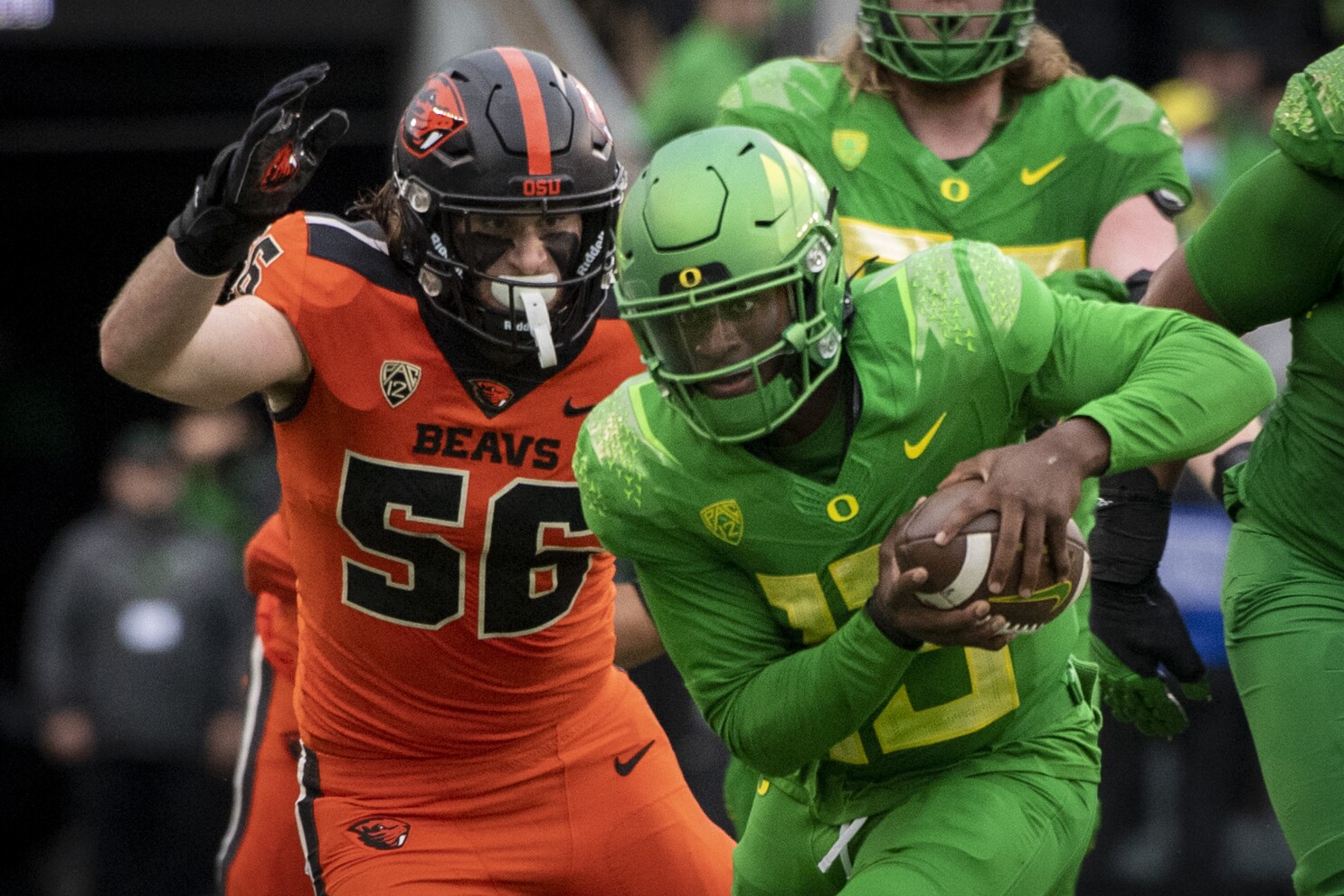 The Oregon Ducks rebounded nicely after losing to Utah by beating Oregon State 38 to 29. Oregon jumped out to an early 14-0 lead with a 20-yard touchdown run by Travis Dye and a 50-yard touchdown pass from Anthony Brown and Devon Williams.
The Ducks led 24-3 at halftime, Oregon State outscored Oregon 26-14 in the second half, including 20 points in the fourth quarter, but it was not enough to beat the Ducks. The Ducks' fast start was too much for the Beavers to overcome.
Up next for the Ducks will be a rematch against Utah in the Pac-12 title game.
Oregon Rushing Attack Was Outstanding
The Ducks ran the ball 41 times for 231 yards, which was good for 5.6 yards per carry. Dye ran the ball 20 times for 99 yards and two touchdowns, and quarterback Anthony Brown added 84 yards on 14 rushes with one touchdown. Freshman running back Byron Cardwell added 43 yards on just six rushes. The Ducks made a considerable effort to run the ball on Saturday afternoon.
Anthony Brown Was Efficient
Brown completed 23 of 28 passes for 275 yards and two touchdowns. The quarterback made a lot of high percentage throws and did not turn the ball over. Brown's two main targets were Devon Williams and Kris Hutson. Willaims caught six passes for 119 yards and one touchdown, while Hutson hauled in seven catches for 82 yards and a touchdown.
The Ducks Were Efficient On Third Down
When your quarterback has a high completion percentage, it usually translates into a high third-down rate. The Duck was 10-13 on third downs; when you run the ball effectively, it puts the offense in third and short situations, which are easy to convert. Also, converting on third downs helps you keep drives alive; Oregon had the ball for 37:04 to Oregon State's 22:56.
Oregon played well on both sides of the ball; many of the Beavers' points were scored in garbage time. Oregon must clean up the penalties; the Ducks had ten penalties for 52 yards.
Make sure to go Follow our Twitter!
Also go make sure to check out our Shop!